Northern Illinois Daffodil Society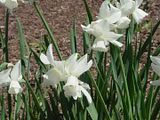 Organized: August, 1987
Meetings: Callers will notify members
Club Contact:
Nancy Pilipuf
N11090 Woodstock Road
Garden Prairie, IL 61038
(815) 547-6244
Something About Us
Northern Illinois Daffodil Society is associated with the Midwest Daffodil Society and the American Daffodil Society. Daffodils are the flowers symbolizing friendship and are one of the most popular flowers due to their unmatched beauty. Daffodil flowers have a trumpet shaped structure set against a star-shaped background. Often the trumpet is in a contrasting color from the background. The name Daffodils includes the cluster-flowered yellow Jonquils and the White Narcissi.
Each April the Midwest Daffodil Society hosts an American Daffodil Society approved Daffodil Show at the Chicago Botanic Garden in Glencoe, IL. This show is typically held in April where growers and flower designers are invited to exhibit. Look for information about the society, results of past daffodil shows, and information about the 2017 Daffodil Show at www.midwestdaffodil.org.
The Northern Illinois Daffodil Society Bulb Exchange will be in September this year. Date to be determined.
Site updated 03/21/17
Visitors:
Counter set: 5/3/10
This site is hosted and maintained by XLerators.com,
providing community organizations and businesses with a free starter website with 1-year free hosting.
© 2016 XLerators, LLC
Garden Clubs
Each garden club of the Council of Rockford Gardeners, Inc. encourages and welcomes guests and new members. Visit each club site below for information about the club and to access their schedule of meetings and ongoing activities.
3,281